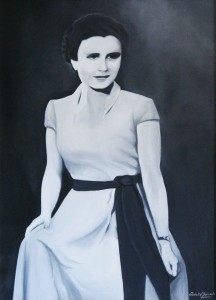 Ben Abraham came to Brazil January 21, 1955. Although he first came only to visit the country, he was asked to stay longer as a collaborator of the Mossad  and help the organization with investigations in Brazil.
Sometime after his arrival in the country, Ben Abraham and a partner started a small factory of armchairs in the neighborhood of Brás, in São Paulo city.
In October, Ben Abraham met Miriam Dvora Brik,  while riding  on a train in São Paulo city. They had already seen each other before. Miriam was a survivor from Luck, Ukraine, who had moved to Brazil a few years before and was now living with her relatives. She was impressed to learn how "Chaim" – that was what she called him – had come to Brazil by himself, and without anyone's help had managed to start his own business. Both lived in Bom Retiro at the time, a traditional neighborhood of the Jewish community in São Paulo. They became engaged on January 21, 1956, and got married three months  later.
In 1958, Ben Abraham became a Brazilian citizen.
When their son Jacques was born, Miriam decided to quit her job as a teacher and look after the children, while Ben Abraham worked in the armchair factory. The business was prospering and they were able to purchase  a larger home. A few years after that, their daughter Edith was born.
In 1970 or 1971, after their son Jacques  turned thirteen  years old, they travelled to Israel to celebrate his Bar Mitzvah by the Western Wall in Jerusalem.
It was the first time they returned to Israel after settling in Brazil, which was an opportunity to meet Miriam's relatives that had supported her right after the war. Many of Ben Abraham's orthodox family members were also present at the ceremony.
During this trip the couple visited the Yad Vashem Memorial Museum in Jerusalem. They returned several times to visit both the Kotel and the museum in subsequent trips to Israel.
Sometime after their first trip to Israel, in 1972, Ben Abraham decided to write a book about his experience as a survivor. At the beginning, his wife Miriam was concerned that he would get depressed remembering the past, as he frequently had nightmares in which he cried for his relatives. However, as she writes in her book: "Something amazing happened.
Remembering and describing the memories had a beneficial effect on him, as if, through his account he was becoming free from his suffering." It was when his first book – … and the World Remained Silent – was published that he adopted "Ben Abraham" as a literary pseudonym.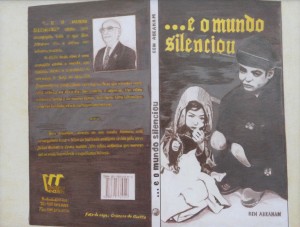 The book obtained very good reviews among literary critics. Several editions of the book were published in the same year, and afterwards. As the repercussion impact of his book mounted, Ben Abraham became aware of the importance of giving his testimony to the young people. He became more and more committed to sharing in workshops, lectures, and through his articles published in newspapers and magazines.
Ben Abraham wrote fifteen books, most of them related to the Holocaust and WWII. Some of them have been translated into English and published in the United States. The revenue from the publications was invested in new editions, as Ben Abraham kept his principle of not making money at the expense of millions of Nazi victims.
As the years went by, Ben Abraham became more and more involved with his work  in the Jewish community. He later became the president of the Sherit Hapleitá Brazil – the Association of Nazi Survivors – where he worked to promote events to inform people about the Holocaust and to remember the Holocaust.
In the northeast of Brazil, a group of people founded the Fundação Ben Abraham (Ben Abraham Foundation), an entity aimed at fighting neo-Nazis who were trying to propagate their ideas in the region.
Later, the couple decided to travel to Poland to visit Ben Abraham's hometown, Lodz. They found the house where he lived before the war and also the small apartment where he lived with his parents in the Lodz ghetto. But when they tried to find the tomb of his father, they found the cemetery was in ruins, so they fixed a plaque in his memory on one of the remaining walls. While visiting Zgierz, his grandfather's hometown, they also tried to find the Jewish cemetery, only to discover it had also been vandalized.
Miriam and Ben Abraham also visited Miriam's hometown Luck, in Ukraine. Miriam could not recognize much of the city as it had been reconstructed after the war. The Jewish cemetery of Luck had also been vandalized.However, they found a monument that had been raised during Gorbachev's government in remembrance of the victims of Nazism and found out something relevant: the larger Ukrainian plaque says the victims were Soviet citizens; only a smaller plaque in Yiddish mentioned the Jewish victims.
In 1978 Ben Abraham  was also invited by the government of the state of São Paulo to become a member of the Group of Assessors to the FEBEM (State Foundation for the Welfare of Minors).
From around 1980 and in subsequent years, Miriam and Ben Abraham  began being invited by schools, colleges, churches and different institutions to present their testimony as Holocaust survivors both  in Brazil and abroad. The couple estimates they have been to more than 5,000 schools since then.
Both Ben Abraham and Miriam say they never turned down an invitation to speak about what happened to them during the war. They have traveled to many localities in Brazil in their effort to make younger generations of Brazilians aware of the Holocaust, so that it never happens again.
One of Ben Abraham's favorite remarks in those occasions is to mention that Germany was a democracy when Hitler rose to power, emphasizing the importance of responsibility in national elections.
***
The couple had two children, Jacques and Edith, and four grandchildren. Jacques Nekrycz passed away in 2000 in consequence of an accident.